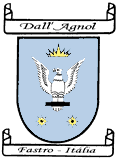 Dall'Agnol family Association and other ones emigrates from Fastro
The association collect and promote contacts and search between family's members to keep history, culture and traditions.
Association magazine
The published copies of our Magazine are listed here below.
The articles are written in Portuguese and Italian languages, sometimes they are reported in "Talian", that is the Venetian dialect still spoken in the South of Brazil among the descendents of the Venetian emigrants.
---
Last modified: 10/06/2012