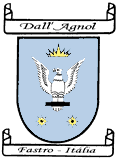 Dall'Agnol family Association and other ones emigrates from Fastro
The association collect and promote contacts and search between family's members to keep history, culture and traditions.
Discussion group and eletronic messages
The group frequently is identified as mailing-list and consists of contacting everibody that is in the group, simultaneously, by am e-mail. The e-mail is addressed to the groups address and, automaticaly, it is distributed to eveibody of the group dallagnol@yahoogrupos.com.br.
To join the group:
You can join to the group that makes interchange of messages around the world. For that you must go to the site and join to the group dallagnol. If you don┤t know how to do that, send me an e-mail that Y will do it for you. dallagnol-subscribe@yahoogrupos.com.br.
If you have any problem write to secretaria@dallagnol.org.
To withdraw from the group:
Just send an e-mail to: dallagnol-unsubscribe@yahoogrupos.com.br.
---
Last modified: 15/01/2007