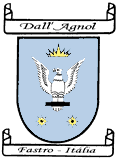 Dall'Agnol family Association and other ones emigrates from Fastro
The association collect and promote contacts and search between family's members to keep history, culture and traditions.
Parameters of viewing
the web site is optimised for resolution 800 x 600 or higher levels.
The pages have been tested with Mozilla FireFox 1.5, Microsoft Internet Explorer 6.0, Opera 7.23.
Contributers
Who have contributed to make this web site, with different tasks:
Flavio Dall'Agnol
Egidio Dall'Agnol
Claudia Dall'Agnol
Mßrcia Andreolio
SÚbastien Dall'Agnol
Matteo De Rocco
Ivano Dall'Agnol
We would like to thank all those ones that have contributed with materials, suggestions and ideas
Tecnical specification
The web site has been made refering to the specifics of the following standards:
XHTML 1.0 nella versione Strict e Transitional;
style sheets CSS ver. 2;
Accessibility level AA, versione 1.0.
The pages satisfying these standards are those ones with the same layout of this page. The other ones will be adapted the next time they will be reviewed
---
Last modified: 01/09/2006